Butterfly Kisses Lashes specializes in the application of semi-permanent eyelash extensions – The latest trend in beauty makeovers that make your eyes look amazing! Our studio, located in Katy, TX, a suburb of Houston, only uses the best product on the market – Xtreme Lashes, world renowned for its innovation and quality.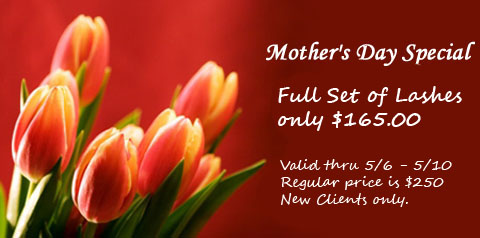 Initial Full Eyelash Extension Sets:
65 Lashes per eye: $250
85 Lashes per eye: $300
100+ Lashes per eye: $350
Returning Client Full Set: $120 – $200
Eyelash Extension Refills:
35 Lashes per eye: $55
50 Lashes per eye: $75
Eyelash extensions will fall out little by little every week. To keep a full look, touch-up will be recommend every 2~3 weeks.  Over 4 weeks, it is most likely time for another fresh new full set.
Highlights – Colored Lashes:
2 Lash Colors: Add $30
3 Lash Colors: Add $45
Lash Removal:
We use only Xtreme Lashes Adhesives and Products.

Friends Discount!
Tell your friends about our beautiful lashes and get $20 OFF!  Please tell your friend to mention your name when making an appointment.
Before Your Appointment
Please come to your appointment with No Mascara, No Eyeliner, No Heavy Makeup, No Lash Perm, No Contact Lens (please bring your own contact lens case to take them off during the lash application).
We encourage our clients to limit caffeine intake prior to application.
During the application please turn off the cell phone ringer.
When necessary to talk during the lash application, the application must be stopped since the movement of facial muscles may interrupt the procedure.
Once the lash application starts, you need to keep close your eyes, lay flat and be still until the application is over.
After the application we highly suggest not to wet lashes at least 48 hrs after the lash application to prolong the glue bond.
Cancellations: 24 hrs. business noticed it required for appointment cancellations.
By Appointment Only – contact us to make an appointment
(713) 249-9690